News
Specially-Abled Uber Driver's Cute Request Melts Hearts On Twitter, Message Goes Viral
The Internet has certainly made our lives very easy as now we can do many tasks sitting at home such as shopping, funds transfer, booking cinema tickets, flight/train/bus tickets, bookings cabs, etc. The online booking of cabs has made it quite convenient for us to travel from one place to another and there is no need of bargaining for prices as well because they charge as per the rates prescribed by the company. Mostly we have seen that people are busy with their mobile phones while sitting in a cab, whether they are talking or chatting with someone or listening to music, it is quite rare that people indulge in conversation with the cab driver other than the time when they have to tell them to stop or while making cash payment but a specially-abled Uber cab driver named Onur is making the Internet emotional as a Twitter user talked about the message board which he read when he took Onur's cab.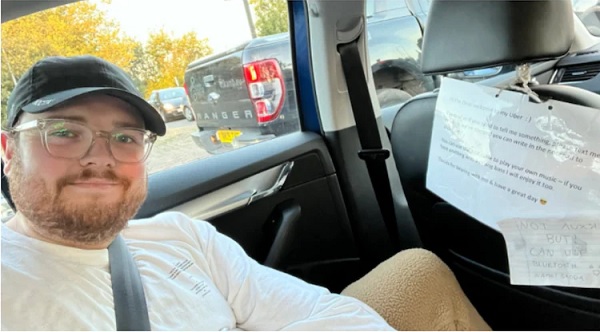 The message read, "I'm deaf so if you need to tell me something, please text, or when we've stopped you can write in the notepad to show me. You can use the AUX cable to play your own music – if you have anything with a strong bass, I will enjoy it too. Thanks for bearing with me and have a great day."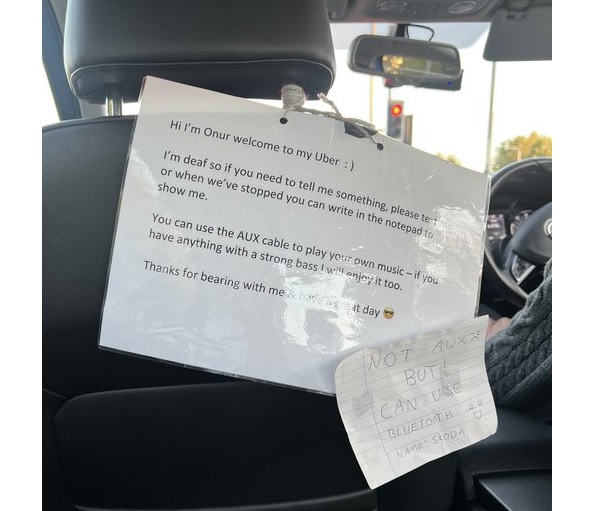 The message board was hanging at the back of the front seat and the Twitter user shared it with the caption, "I have just entered the most wholesome Uber of my entire life. Big ups, Onur, absolute hero" with a heart emoji.
Check out the tweet:
I have just entered the most wholesome Uber of my entire life. Big ups, Onur, absolute hero ❤️ pic.twitter.com/lID9Mn7pqF

— Jeremy Abbott (@Funster_) October 21, 2021
Twitterati also got emotional after this tweet went viral and this is how people reacted:
#1
this is so wholesome, i hope you played something with strong bass!

— Aneesa Ahmed (@missaneesaahmed) October 21, 2021
#2
"Thank you for bearing with me" breaks my heart a little🥺

— O'DOYLE RULES (@veaghantacos) October 22, 2021
#3
Thank you so much for sharing! Biggest respect to you 🙌

— Joseph (@beadleblue) October 24, 2021
#4
This just filled my heart with absolute joy ❤️

— Paul johnstone (@pauljohnstone92) October 22, 2021
#5
melting over "can use bluetooth 😃" ❤️

— Amy B (@amebbbb) October 21, 2021
This indeed melts our hearts!