Humour
Students Spark Twitter With Hilarious Meme Fest As CBSE Announces Two Board Exams Plan
The coronavirus pandemic affected the education system in a pretty big manner as the schools and colleges were closed in order to save students from the lethal virus. Well, the online classes were conducted in order to ensure that at least students completed their syllabus while sitting at home but the big problem for the schools was how to conduct examinations.
While for other classes, the education ministry gave the order to promote the students to the next class without exams but coming up with a solution for the 10th and 12th standards was not easy as in these classes, the students have to give board exams which are quite important in regard to the students' future.
In order to ensure that no problem is faced in the future, the Central Board of Secondary Education (CBSE) has come up with a new policy for the future students. The student of academic session 2021-22 will be giving two board examinations, Term I and Term II. Both the exams will be of 90 minutes and the students will be tested on the basis of 50 percent of syllabus studied by them in the respective term and on the basis of the marks scored in both the terms, the overall marks of a student will be calculated.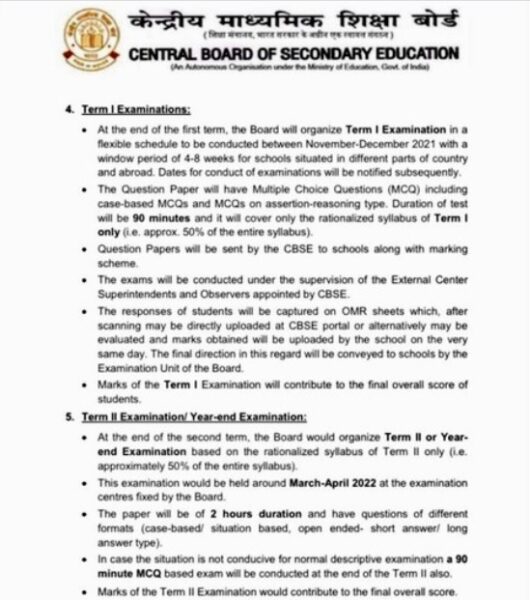 As per a news portal, the examinations of Term I will take place in November-December while exams of the second term will take place in March-April. The CBSE will set question papers and will send them along with the marking scheme to the schools. The job of CBSE doesn't end here as it will also appoint observers and external center superintendents for supervising the examinations.
New scheme declare by CBSE FOR 2021-2022 session. #CBSE pic.twitter.com/RCEEmfvXDm

— Arjun Ghosh (@ArjunGhosh07) July 5, 2021
This decision of CBSE has got mixed reactions as some are not happy with two board exams in one class as it will give them double stress while there are few who are happy with this new policy as they will need not to study the whole syllabus and focus only on the syllabus studied in the respective term.
Here are some selected reactions:
#1
Me (like any other student) planning to study from December for boards..
Le CBSE : Announced one of the 2 board exams In November- December. 🌚🙂#CBSE #CBSENews pic.twitter.com/jDGNX6E5i5

— Aastha Priya🇮🇳 (@AasthaPriya5) July 5, 2021
#2
#CBSE continuously changing steps for exams
Le students : pic.twitter.com/yXBEYBIqwJ

— AishwaryA🖤 (@DivineAish) July 6, 2021
#3
Me thinking of Cancellation of Exam
And #CBSE announced 2 terms exam
Me rn : pic.twitter.com/s70nPDnHPp

— Vipin🐼 (@cuppy_vanilla_) July 6, 2021
#4
1. #CBSE changed exam pattern
2. #Earthquake in Delhi NCR

💀😭😭 pic.twitter.com/7I2axaErs1

— 🌼🦋 (@ItsMeeeeAB) July 5, 2021
#5
#CBSE
Le CBSE : Announced one of the 2 board exams In November- December…

Me 😂😂 pic.twitter.com/YhZ74hAL3P

— Krishan Panwar 🇮🇳🇮🇳 (@Krishan24274406) July 5, 2021
#6
*CBSE Board Exam 2022 Will Be Held In 2 Parts, On Reduced Syllabus

CBSE students rn : pic.twitter.com/OuR4YhplIi

— Shivangi Tomar (@Shivangitomar22) July 5, 2021
#7
#CBSE
STUDENTS who thought exams will be cancelled again. RN : pic.twitter.com/6O9LB9lRHs

— Prathmesh Yadav (@iamprathmesh112) July 6, 2021
#8
Toppers after the news of #CBSE new examination scheme : pic.twitter.com/CIH1SkqoXB

— Abhay Parouha (@AbhayParouha_) July 6, 2021
#9
Students after knowing about MCQs type questions in Term-1#CBSE pic.twitter.com/rM1WDZjNWe

— Pranav Raj (@pranav_raj07) July 5, 2021
#10
#CBSE announces new examination strategy
me who is already passed out: pic.twitter.com/Q0yGoqsbHV

— वरुण | ਵਰੁਣ | ورون | varun (@Varun_2307) July 5, 2021
#11
#CBSE announced double examination for 10th & 12th 2021-2022 batch .
le 2020-2021 students : pic.twitter.com/pXMtXMpuW8

— Akriti 🇮🇳 (@clingysoul__) July 6, 2021
#12
Me when #CBSE announced the new exam pattern: pic.twitter.com/FfXBrz1jXK

— Vipin🐼 (@cuppy_vanilla_) July 6, 2021
#13
Boards 2022 be like #CBSE #boardexams2022 pic.twitter.com/tHaL1e0tab

— Abhay Parouha (@AbhayParouha_) July 6, 2021
#14
#CBSE
Cancels boards for 2 grades
Conducts 2 boards for one grade. pic.twitter.com/HKikuE8xZF

— Harsh Phoujadar (@HPhoujadar) July 5, 2021
#15
#CBSE to 10th and 12th pic.twitter.com/i0Imu1pw4L

— Gunu (@Gunpreet_kaur_) July 5, 2021
What is your take in this regard? Do let us know.
Share Your Views In Comments Below