Sports
Suresh Raina Trends As Fans Want Him To Play For Gujarat Titans After Jason Roy Pulls Out Of IPL
Suresh Raina, the former Indian cricketer, made a lot of headlines after he went unsold in the auction for the IPL 2022 as his contribution in the success of Chennai Super Kings and the tournament is immense. How much he is loved by fans can be understood by the fact that he is affectionately called Mr. IPL by cricket lovers. Raina was a part of Chennai Super Kings since the inaugural edition of 2008 except for 2 years when the Chennai franchise was banned and he played an important role in CSK's three out of four title wins.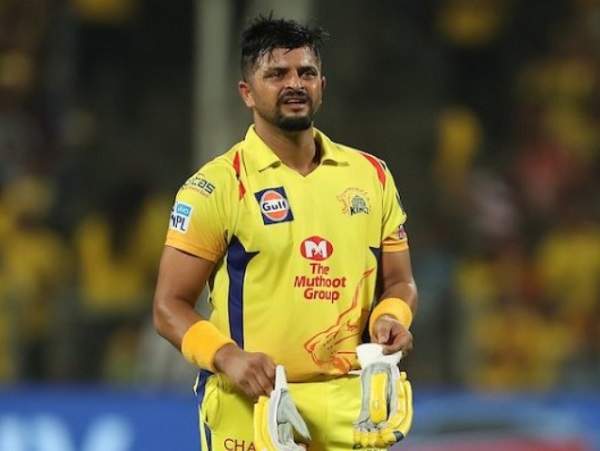 Almost every CSK fan was sure that the Chennai franchise will buy Suresh Raina who is its highest run-getter in the IPL but it didn't happen and Raina didn't get even a single bid in the auction.
Recently, the English cricketer Jason Roy has pulled out of the IPL due to the bio-bubble fatigue and he has confirmed that he will remain away from cricket for some time as he wants to spend quality time with his family and himself.
Jason Roy who was bought by the new IPL team Gujarat Titans announced his decision with the statement which read,
"Hi everyone, especially the Gujarat Titans fans and squad. It's with a heavy heart I have decided to pull out of this year's tournament. I want to thank the management and the captain Hardik for putting your faith in me and picking me in the auction. However with everything going on in the world over the last 3 years it's added up and taken its toll on me. I feel it's only right I spend some quality time with my family. As well as spending time working on myself and my game over the next couple of months leading into a very busy year. I will be following each game of the Titans and backing them to lift the trophy in their first year of the tournament.
Thank you everyone for the continued support and I hope you can all respect and appreciate my decision."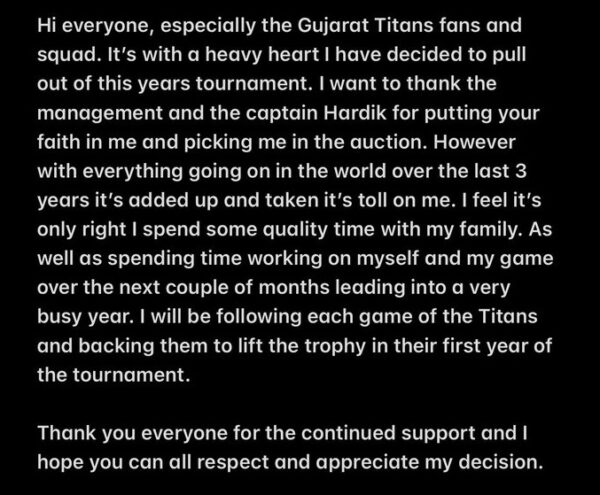 Here is the tweet:
IPL 2022. pic.twitter.com/fZ0LofBgSE

— Jason Roy (@JasonRoy20) March 1, 2022
As soon as Jason Roy announced his decision of staying away from the IPL 2022, cricket fans started hoping that Gujarat Titans will choose Suresh Raina as his replacement. Even CSK fans who are not happy with the treatment meted out to Raina by the Chennai franchise and skipper MS Dhoni requested the Gujarat franchise to select Raina because they want to see him play in the league.
One more reason because of which fans hope that Raina will get to play for Gujarat Titans is that in the year 2016-17 when CSK was banned, Suresh Raina led the team Gujarat Lions in the IPL.
Here are some of the selected reactions:
#1
#SureshRaina𓃵 will be an important factor for the #GujaratTitans 👆 pic.twitter.com/rjuyr1fl7m

— SUBHASH SHARMA (@Thesubhashbabu) March 2, 2022
#2
Forever ♾️👑 @ImRaina#SureshRaina𓃵 #GujaratTitans pic.twitter.com/wQjBf1FRYq

— Dexter (@proudindian48) March 2, 2022
#3
A possibility of @ImRaina likely to play for @gujarat_titans in #IPL2022 as replacement for @JasonRoy20, who has opted out! pic.twitter.com/feHfbu23WL

— Sreedhar Pillai (@sri50) March 2, 2022
#4
Dear @gujarat_titans, if you pick Suresh Raina as a replacement of Roy, you are not just picking Raina for the team also you would getting almost 10M+ followers for your team who would promote your matches and support. This is important for your brand value. #SureshRaina𓃵 pic.twitter.com/zEZrZqaSCP

— Nikhil Shete (@Nix_viratian_18) March 2, 2022
#5
Dear @gujarat_titans. This is a blessing in disguise to pick @ImRaina . Gives you solid Indian batter you lack in middle order. Allows you to go full throttle with ur foreign bowlers. Remember @henrygayle too was unsold and then he was rehired by @RCBTweets . Rest is history.

— G. S. Vivek (@GSV1980) March 1, 2022
#6
Before Raina V after Raina.

Scenes will be in @gujarat_titans #SureshRaina𓃵 pic.twitter.com/5DduYh8ku3

— 𝓛. (@Shaikh_Laiba_) March 3, 2022
#7
Its been 3 days #GujaratTitans the hashtag #SureshRaina𓃵 is trending….
Think of your brand value pic.twitter.com/WnQ9NiPKiX

— saikumar jamana (@jskindian) March 3, 2022
#8
#SureshRaina𓃵 #GujaratTitans
Life will always give a second chance…😍 Finally @ImRaina in ipl 2022.. waiting for an official announcement from @gujarat_titans ..❤️ pic.twitter.com/dQGT3hhuMS

— vêñkâtésh_Raina_3🇮🇳 (@Vengadesh_raina) March 2, 2022
#9
#SureshRaina𓃵 #GujaratTitans Once you pick suresh raina as a replacement for Jason Roy then your fan base became half as csk …🙂 Pls make it true…🙏@ImRaina @gujarat_titanshttps://t.co/vf5Pthy3lx pic.twitter.com/IfHzrLrVOz pic.twitter.com/evaZd0Xg9S

— Vikas Yadav 🇮🇳 🦁 (@imvikasyadav_) March 2, 2022
#10
#GujaratTitans #SureshRaina𓃵
Don't give me hope . pic.twitter.com/n4Me0Srqye

— III – 161 Yukesh (@yukesh09) March 2, 2022
#11
#SureshRaina𓃵 Pls titans its emotion off indian cricket fans ,,its last hope in my life #GujaratTitans Pls pic.twitter.com/3iWaJcuQca

— D Hearts (@DHearts5) March 2, 2022
However as per the reports, Suresh Raina is not even getting considered by the Gujarat franchise for replacing Jason Roy.
What is your take in this regard? Do you also want to see Raina play for Gujarat Titans? Let us know your views.
Share Your Views In Comments Below