Humour
Sushma Swaraj Posts A Mysterious Number On Twitter. Leaves Twitterati Confused About Its Meaning
Sushma Swaraj is one politician who mostly remains in the news for her work. However, this time she became a topic of discussion on Twitter thanks to a mysterious tweet which she soon deleted.
The Minister of External Affairs, Sushma Swaraj took to Twitter and posted a number i.e. 638781. No caption and just a number. As soon as she posted it, people starting guessing and asking whether it is some OTP, encrypted message, country code or some password. Have a look-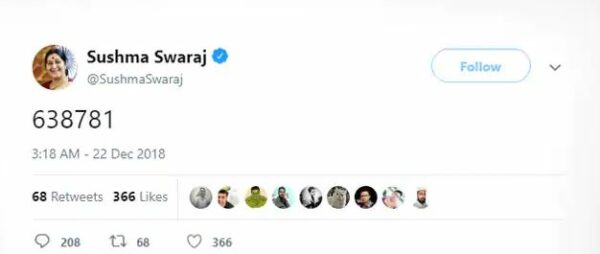 Well, no one knows the answer but some reactions were really interesting and hilarious. Have a look at them below-
#1
Madam otp Yaha mat share karo. Snoopendra jaag jayega

— Siddharth Patni (@aageSeLeftLelo) December 22, 2018
#2
This OTP is no longer valid. Please share a new one 😂🙈

— nagarjuna (@arjuna9999) December 22, 2018
#3
— फैन नहीं मतदाता बनिए (@BeVoterNotFan) December 22, 2018
#4
This much amount left in RBI😝😜

— Sanjeev Singh🇮🇳 (@sksinghsanjeev) December 22, 2018
#5
Did the Chinese manage to hack into @MEAIndia systems?

Remember that US and UK agencies had raised red flags about a alleged campaign funded by the Chinese Government named 'Cloud Hopper'@tanvi_madan @SushmaSwaraj @suhasinih pic.twitter.com/1Jp22LJz3j

— LifeofSoldiers (@lifeofsoldiers_) December 22, 2018
#6
6+3+8+7+8+1= 33 pic.twitter.com/MwGFurf357

— Cricket Freak (@iamcricketfreak) December 22, 2018
#7
Number of runs Virat Kohli is going to score in the ongoing test series vs Australia

— Vrajesh Vyas (@vrajesh_reDevil) December 22, 2018
#8
OTP 🤔🤔🤔

— Raman mehrotra (@mehrotra925) December 22, 2018
#9
Koi flight number hai

— Shiv (@Shivanmtayal) December 22, 2018
#10
Emergency toll free number for people stuck in theaters watching ZERO movie. pic.twitter.com/Aef1dvJfOG

— Vishal 🇮🇳 (@vsurywanshi87) December 22, 2018
Isn't that hilarious?
Sushma Swaraj has been constantly in news for helping Indians stuck in other countries and even people with lost passports.
Share Your Views In Comments Below