Humour
This Guy Broke Up With His Girlfriend And Announced It With Billboard. Watch Video
Gone are the days when Billboards were used only for marketing. People these days have started using them for personal use also. Just a few days back reported to you how two boys used billboards to wish their father a Happy Birthday. The billboard had his number printed on it and as a result, the man received 10,000 calls ans texts from random people.
Now an Indonesian boy has taken the thing to a new level as he decided to use billboard for announcing a breakup with his girlfriend.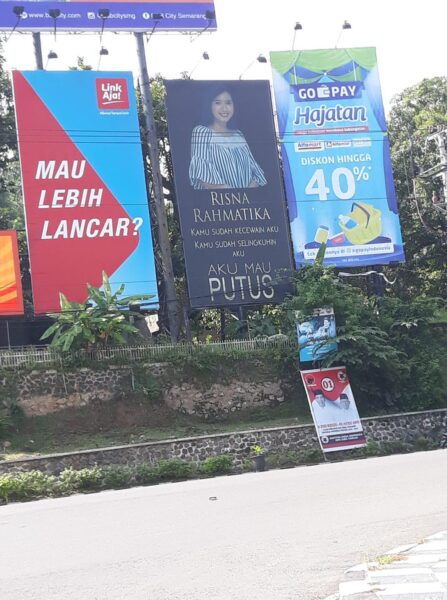 A video is going viral on Twitter which shows the couple having an intense argument and then the camera zooms up towards the billboard. The billboard has the message written in the local language but reportedly it means, "Risna Rahmatika, you've been disappointed with me. You cheated on me. I want to break up."
Watch the video below:
Katakan PUTUS ter-SAVAGE !!!
baliho mameeennn … Balihooo !!! pic.twitter.com/FjGSxMXPBW

— ค๔เt (@myxzyptlx) March 9, 2019
Click Here to watch the video directly on Twitter
Surprisingly, Twitterti is loving the way the guy has broke up with the girl. Here's how the people reacted-
#1
The real SAVAGE https://t.co/ghtEyBiDzx

— Akun Udunan (@Jyrmdhn) March 9, 2019
#2
Cewek : What Did It Cost?
Cowok : Everything! https://t.co/fVwpz2qx9y

— Brohim (@mustofabrohim) March 11, 2019
#3
*Man of this year* https://t.co/dReLFme3g1

— V I R A (@elvrgstn) March 15, 2019
#4
well i mean she cheated on him sooo https://t.co/FCU2jaf42u

— sad (@jpgkarinaa) March 11, 2019
#5
Next level of break up. https://t.co/STmvbUu6vX

— Syamim Razak (@SYMRZK) March 11, 2019
#6
lmfao this guy rented a billboard and got megaphone telling others the girl cheat on him 😂😂 https://t.co/6zLSelcty4

— akid (@akidhariz) March 11, 2019
#7
i will surely be this extra https://t.co/6QKzAap3XD

— `° •♡ dynv ♡• °` (@nvrndhra) March 10, 2019
#8
Three billboards outside indon https://t.co/ICGMDbiiIY

— willa (@videoplayback_) March 11, 2019
#9
This is another level wehhhh hahaha https://t.co/BkOxK3w13S

— MummyNoah (@LOLShaika) March 11, 2019
What are your thoughts on it?
Share Your Views In Comments Below