News
Udaipur Mall Prohibits Zomato & Swiggy Guys From Using Lift & Asks To Use Stairs, Twitter Reacts
Zomato and Swiggy have certainly made our lives very easy as now we can relish the tasty food from our favourite restaurant while sitting at home just by ordering it from the app on our smartphones. Though eating out is a great concept as dining out with family or friends refreshes and rejuvenates us, there are times when are not in the mood to get dressed up and drive up to the restaurant and in such moments, these food delivery apps are of great use. The use of Zomato and Swiggy increased manifold in the times of the coronavirus pandemic as the governments of various states restricted people from eating in restaurants but take away was allowed.
It is completely true that the work of food delivery executives is quite tough as they have to drive a lot in order to deliver food on time irrespective of how the weather is, be it summers, winters or rainy season.
However, despite the fact that these food delivery persons have to face many hardships, a mall in Udaipur has done something which will not only make the work of these food delivery guys tough but it is also against humanity.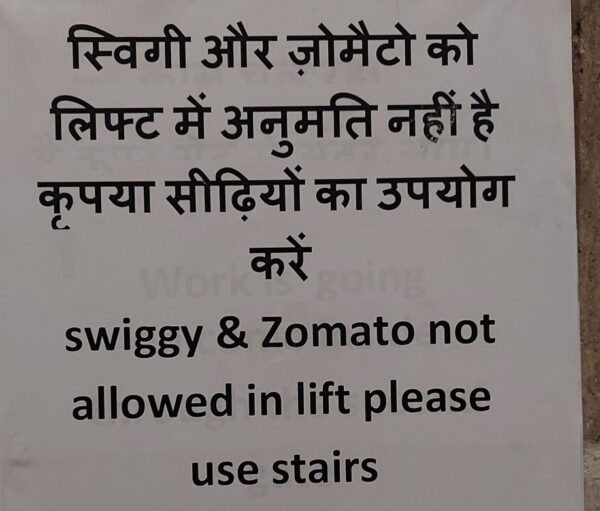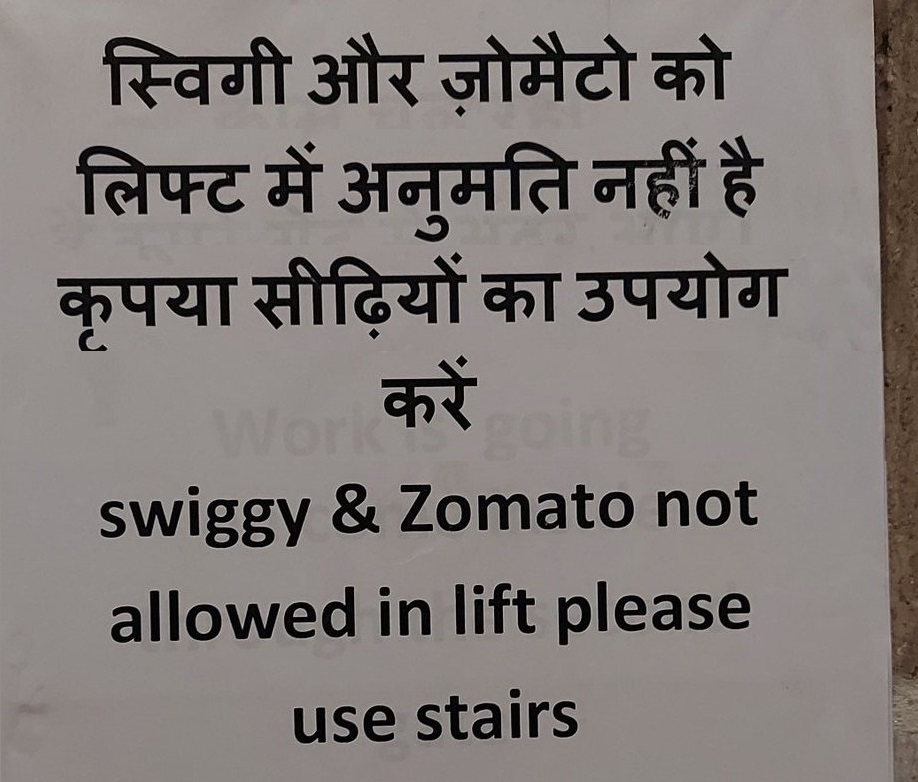 The management of a mall in Udaipur has put up a poster which prohibits the food delivery executives of Zomato and Swiggy from using lifts and they are instructed to use stairs for delivering food.
A journalist Sobhana K Nair shared the photo of the notice with the caption, "Modern day feudalism".
Modern day feudalism pic.twitter.com/edqYwQe5Qj

— Sobhana K Nair (@SobhanaNair) September 18, 2021
In her second tweet, she reveals that this is a food court/mall in Udaipur. Here is what she tweeted, "This is a food court/mall in Udaipur. It is absolutely disgusting".
This is a food court/mall in Udaipur. It is absolutely disgusting

— Sobhana K Nair (@SobhanaNair) September 18, 2021
Soon the Indian Twitter slammed the people behind this notice by calling it inhuman and violation of their human rights. Here are some Twitter reactions:
#1
Aren't they humans ? #Nonsense https://t.co/bkFesxQ77W

— Learnin2LuvNature (@Edcemper) September 20, 2021
#2
Sad, that a mall discriminates against one of its own stakeholders – the delivery guys!

— Dr. Kiran Somvanshi (@Kiran_ET) September 19, 2021
#3
This is absolutely rubbish. Deliver guys are humans not robots, we should respect them like others.@zomato @swiggy_in plz instruct ur delivery partners, if they see something like this, they must call customer to come down the stairs for order pickup. https://t.co/KwcWH0b7K2

— Ravi Pandey🇮🇳 (@ImDeadpoool) September 19, 2021
#4
If the delivery boys are carrying a certain weight they cannot be denied a lift, that's the Human rights convention which India is a signatory.

My society too wanted my labour to carry goods up floors with stairs, which is a human rights violation.

— M Merchant 🇮🇳 (@kluzener) September 18, 2021
#5
Yes,and the same thing at every mall at Kolkata also. Thousand people can visit mall – hardly 10% have real purpose of the visits..but 100 delivery guys are not allowed for nonsense reasons. Even @swiggy_in and @zomato also have never thought for there team

— Raj Pandey (@PingalRaj) September 19, 2021
#6
Is poster lagne vaale ko sza di jaaye 10 maale building me 10baar up down

— ravi kataria (@RaviKat56699941) September 19, 2021
#7
In such buildings, the deliveries should be left at the gate!

Let the Maharajas & Maharanis use their beloved lift to come down to ground level, collect their delivery & use their precious lift to go back to their exalted home 👍🏻

— Devi Prasad Rao 🇮🇳 (@DeviPrasadRao8) September 19, 2021
#8
@DeliveryBhoy We should name and shame this Udaipur mall.
Ridiculous! The delivery personnel deserve respect!
Atleast ask them to use the service lift. What do they mean use stairs!?

— ಒಂಟಿ ಜೀವಿ (@IAmTheShyGuy) September 18, 2021
#9
My society did the same for ALL workers. I had to remind them on WhatsApp groups that this segregation of Indian citizens, and forcing them to climb 10 floors, is a violation of fundamental rights, irrational categorisation, and patently inhuman.

Now all lifts are open for all.

— Sandeep Manudhane (@sandeep_PT) September 19, 2021
#10
This is absolutely insane, either they should be allowed to use lifts or given seperate lift access

— SK • #WhistlePodu (@sasikanthmc) September 20, 2021
#11
Where are we heading? Where has humanity lost? Really sorry to hear this @zomato @swiggy_in we are with you ❤️🙏🏻 https://t.co/MPNnJ7yW3u

— Vijay Mishra (@realvijaymishra) September 19, 2021
#12
What absolute nonsense.
Is this country ever going to let go off this discriminatory and elitist bullshit! 🙄🙄
The world needs more kindness, people! Not more assholes! https://t.co/O6H78ZBqWH

— Simran Thakur (@SimranThakur1) September 19, 2021
What is your take in regard to the whole episode? Let us know your views.
Share Your Views In Comments Below