Politics
UP Police Slammed By Twitterati After They Arrest A Journalist For Posting About Yogi Adityanath
UP Police has arrested a freelance journalist after he posted a video about the CM Yogi Adityanath on Twitter. The video showed a woman who wants to marry the UP CM and alleged that they have been talking through video calling. She even said that if she's proven wrong, the authorities can send her to jail.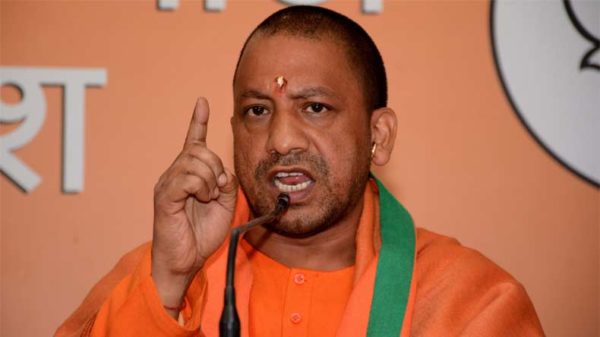 The journalist posted the video on Twitter and captioned it, "Ishq chupta nahi chupaane se yogi ji"
Ishq chupta nahi chupaane se yogi ji pic.twitter.com/dPIexKheou

— Prashant Jagdish Kanojia (@PJkanojia) June 6, 2019
Click Here to watch the video directly on Twitter.
As soon as the news of the arrest of the journalist broke, Twitter was outraged and people slammed the UP police openly. Have a look at some of the reactions-
#1
Shocked to hear about the arrest of my friend, journalist Prashant Kanojia @PJkanojia by UP Police for a Tweet.

I demand his unconditional and immediate release. #IStandWithPrashantKanojia#ReleasePrashantKanojia

— Ovais Sultan Khan (@OvaisSultanKhan) June 8, 2019
#2
When will ruling govt's stop using power to silence people?
Be it BJP or congress this shit doesn't stop!
The walls are closing in and it is suffocating to live in this environment everyday!

— Rajat (@Cobrakai_1) June 8, 2019
#3
Absurd & gross abuse of law & police to arrest for posting a sarcastic tweet against Adityanath. Such abuse of law by police & politicos is increasing by the day in India https://t.co/yBkEW2atzU

— Prashant Bhushan (@pbhushan1) June 8, 2019
#4
Journalist Prashant Kanojia arrested for 'objectionable' post against UP CM Yogi Adityanath.

What is the fate of democracy where no one can even OBJECT?#FreePrashantNow

— Maskoor Ahmad Usmani (@MaskoorUsmani) June 9, 2019
#5
Prashant Kanojia shared a video and his comment was based on the claim made by a woman in that video. Interestingly, Yogi Adityanath and his government have nothing to say to or about the woman in the video. Just shooting the messenger. #FreePrashantNow

— Shivam Vij (@DilliDurAst) June 9, 2019
#6
Hypocrisy at its best.
Strong media outrage when WB police arrested a woman over her post on Mamta Banerjee but no action when UP police is doing the same over a sarcastic tweet against Ajay Singh Bisht.#Shame#ReleasePrashantKanojia

— Jatin Mehra (@jatsjatin1) June 8, 2019
#7
"The arrest is apparently over social media posts he wrote about UP chief minister Adityanath." This dictatorship needs to stop. #IstandWithPrashantKanojia#ReleasePrashantKanojiahttps://t.co/Bg0B677Myh

— Nabiya Khan (@NabiyaKhan11) June 8, 2019
#8
Shocking for UP cops to arrest anyone for posting this news clip with a comment of his own. Adityanath perhaps doesn't know this woman and may consider the fact that Prashant took her claim of having video-chatted with him at face value 'objectionable'. But arrest is abuse of law https://t.co/A8wcfwnW5L

— Siddharth (@svaradarajan) June 8, 2019
What are your thoughts on this?
Share Your Views In Comments Below