Food
US Restaurant Is Selling Plain Dosa For Rs 1400, Calls It 'Naked Crepe', Twitter Goes WTF
The South Indian dishes are quite famous all over India and across the globe as well, especially Dosa, Idli Sambhar and Vada Sambhar. As many Indians work and live in foreign nations such as the USA, UK, etc. so it is quite obvious that restaurants over there sell these dishes but a restaurant in the USA is selling them with different and weird names and that too at exorbitant prices.
Recently, a Twitter user @inika_ posted a screenshot of the online menu of the restaurant which is known as 'Indian Crepe Co.' and you will be surprised to know that they have named our Idli Sambhar as 'Dunked Rice Cake Delight', Sambhar Vada as 'Dunked Doughnut Delight' and Masala Dosa as 'Smashed Potato Crepe'.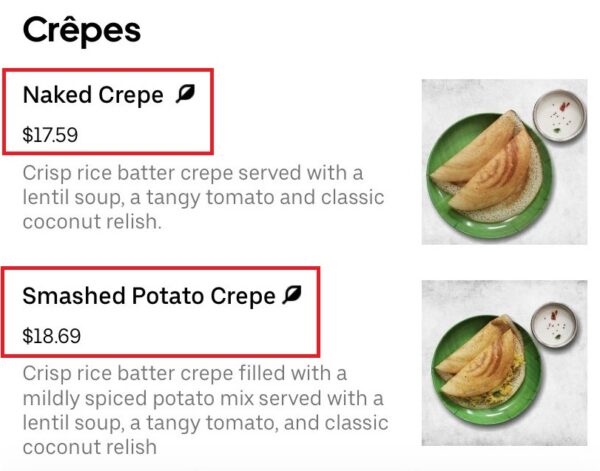 If this was not enough, the name of Sada Dosa (Plain Dosa) is 'Naked Crepe' and what's more shocking is that they priced Idli Sambhar at $15.39 (Rs. 1,230 approx.), Sambhar Vada at $16.49 (Rs. 1,318 approx.), Masala Dosa at $18.69 (Rs. 1,494 approx.) and Sada Dosa at $17.59 (Rs. 1,406).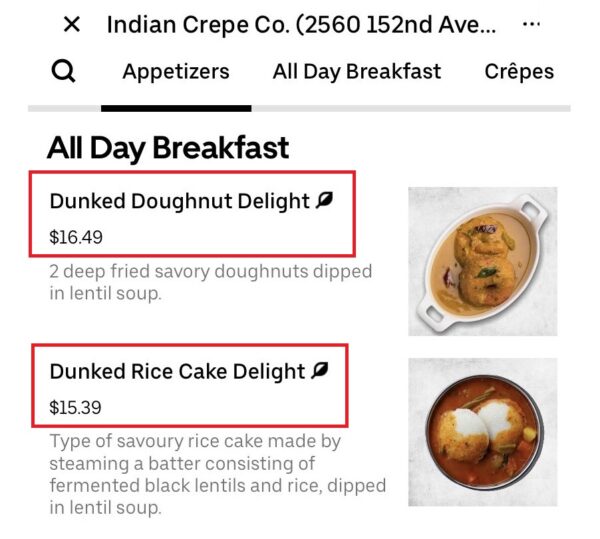 omfg pic.twitter.com/EEIkpBJcoA

— inika⛓ (@inika__) July 16, 2022
Soon another Twitter user shared the details of other South Indian dishes sold at this restaurant with their prices and it is really shocking, have a look:
There's more. pic.twitter.com/BinMJf01Ci

— Aniruddha (@rapidsnail) July 17, 2022
Online users were really perplexed to see their favourite dishes being sold with different names and at whopping prices because even a family of four won't need to spend as much money for eating south Indian dishes as a person has to spend on eating one plate of Idli Sambhar in that restaurant. Moreover, people are of the opinion that when dishes like pizza and sushi are known by their original names in other countries too, why there is partiality with the Indian dishes and they should also be sold with their original names. Here are some selected reactions:
#1
The prices even worse
I can't 😭

— 𝓚𝓻𝓲𝓼​𝓱𝓷𝓪 ‌ (@Venor_crinite) July 17, 2022
#2
This is called culturally appropriating white people

— Barnacle Bixby (@BarnacleBixby) July 16, 2022
#3
Oh no! Someone please make it stop!

— Shraddha (She/her) (@shraddhasinghkk) July 17, 2022
#4
😳😳😳
Naked crepe and smashed potato crepe…😭😂
Why can't they sell them with their original names??

— shilpa (@pinkoflife956) July 17, 2022
#5
I hate it when Indian names are not used.
Sushi, Sashimi are easily used and everyone understands what they are.
I believe it is Indians who do not like to use Indian names – Westerners are OK with it.

— Madhumita D.Mazumdar (@mdmzd) July 17, 2022
#6
I will not idli vada anymore….. in the US… Here I get 2 idli & 1 Vada for ₹45 in Brahmins Cafe or Eat First in JayaNagar…

— Aravind Bala (@aravindbal) July 17, 2022
#7
Why can't they use the original names? Others things can be given in explanation. Sushi is called sushi everywhere and not "Raw boneless fish chunks wrapped in celery".

— Vijayan (@IVijayan2) July 17, 2022
#8
It's all marketing.

Sushi has the reputation for being exotic and high-class. Indian food doesn't have the same reputation.

— Funky Brewster (@StunGunSteve) July 17, 2022
#9
to sell them to locals. Are you going to sell them like idly, dosa, names probably they wont be able to even pronounce.

But the rates!

— Ajay (@Ajaychennai2) July 17, 2022
#10
They don't want any thing to do with India its just like renaming Moscow mule to Kyiv mule..

— Madhu (@MVenkatarayappa) July 17, 2022
#11
imagine telling a 99 variety dosa guy that they're selling a masala dosa for Rs.1500

— sadi🦋 (@sadizzle) July 16, 2022
#12
If Mendu Vada had association, they would have sue them till now

— The Shubham (@Shuvi_Bhawsar) July 17, 2022
#13
People you must understand that it is not about pronunciation but attracting the customer. Maybe someone should open a restaurant of different kinds of Parathas and call them stuffed alu, gobhi, smashed cheese, mooli rolls. Trust me according to Gora psychology it will be a hit!

— Rekha Sharma (@RekhaSh62229768) July 17, 2022
#14
😂 We must too…
Crumpet is "stiff ghevar"
Mash is "ālu churan"
Scone is "sādā mohanthāl"
Pancake is " sādā chillā"

Kedgeree is as it is khichdi 🙄

We can do that for others —
Polenta is "makai peethla"
Falafel is "mootkè"

Fair & square…

— ănyā (@coshstruck) July 17, 2022
#15
Kimchi= Kimchi
Sushi = Sushi
Hamburger= Hamburger
Pie = Pie

Idli=Steamed rice cake
Vada=Spicy Doughnut
Dosa= Crispy Crepe

🗿🗿🗿🗿

— deepak (@Mdeepak1998) July 17, 2022
Will you visit this restaurant and have any dish from their menu ever? What do you have to say about the bizarre names? Unacceptable, isn't it?
Also Read: This Gujarat Café Charges No Money & Offers Free Food To Customers In Exchange Of Plastic Waste