News
Video Of Elderly Woman Speaking About Mahatma Gandhi In Fluent English Is Going Viral
English is one of the most spoken languages of the world and India is among those countries where the count of English knowing people is quite high. The middle class or upper class Indians study in English medium schools so they have good knowledge of English and they are not only able to understand but can also speak in the English language quite fluently and easily.
However, there are still many Indians who are not able to speak or understand English and such people are mainly from the weaker sections of the society or from the rural parts of India. In fact, it has become a general presumption that people from rural India can't speak in English properly.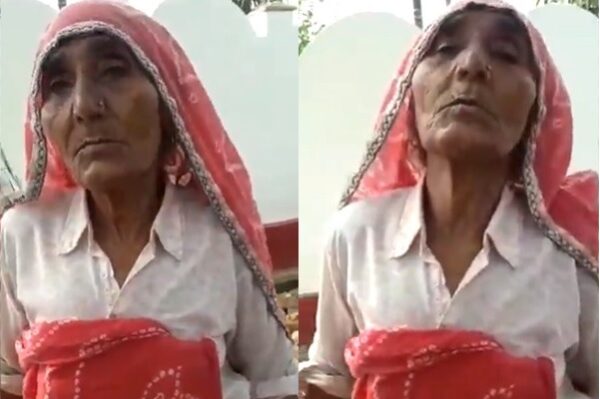 Currently, a video is going viral on the Internet and social media in which an elderly woman who is said to be from Rajasthan is seen speaking in English and she is talking about Mahatama Gandhi. The old woman gave a good description of Bapu and she started by telling that Mahatama Gandhi was the greatest man of the world. She further said that Mahatama Gandhi was from a normal family, he used to live simple life, eat simple food and drink goat's milk.
The elderly woman talked about Gandhi's love for non-violence and also told that the father of the nation loved both Hindus and Muslims. Apart from this, she talked about some other things as well.
A Twitter user has shared this video with caption, "How many marks out of 10 for the old lady for this spoken English Test?" while in another tweet, he expresses desire to know how many marks the Congress leader Shashi Tharoor will give to this old woman.
Here is the video:
How many marks out of 10 for the old lady for this spoken English Test? pic.twitter.com/QmPSEd4o0L

— Arun Bothra (@arunbothra) March 1, 2020
Click to watch this video directly on Twitter
The micro-blogging site was soon flooded with applauding tweets for the woman. Here are some of the selected tweets:
#1
Will be interesting to see how many marks @ShashiTharoor sir is giving to her? 😅

— Arun Bothra (@arunbothra) March 1, 2020
#2
Finally a tight competition to @ShashiTharoor

— Purnachandran Nair (@purna_nair) March 1, 2020
#3
She is still in school. While only memory I have from school 😄 pic.twitter.com/VOHB2qdqF0

— Parveen Kaswan, IFS (@ParveenKaswan) March 1, 2020
#4
For her age and confidence – 11/10!

— Ananth Rupanagudi (@rananth) March 1, 2020
#5
10 for English 10 for Fluency 10 for Confidence to improvise on the go

— SyedMohammadQasim (@EvolveLeadLove) March 1, 2020
#6
Far better that many of the teachers of our primary schools… undoubtedly 10…👍.

— Prakash (@satya_twt) March 1, 2020
#7
Wow 👍, long live the great tai, learning soo much requires brain and talent- 10/10 to this cute tai ji.

— Vipin Sharma (@vipinself28) March 1, 2020
#8
15/10. 5 for amazing effort in crossing obstacles. I couldn't manage this till intermediate.

— Dharmendra Kumar (@Dharmen05798318) March 1, 2020
#9
She is from Sikar, Rajasthan educated under 'Prodh Shiksha Abhiyaan'.

— Vijay Singh Chauhan (@LiveVijay) March 1, 2020
#10
11/10
The spontaneousity would put even the best of educated to shame..

— Dr.Mahesh Rath,MD (@drmaheshrath) March 1, 2020
#11
This lady knows more about Gandhiji than Vadra Madam @priyankagandhi and Yuvraaj @RahulGandhi

— Anand Kubade (@AnandKubade) March 1, 2020
#12
I simply wish to hug her tight and kiss her cheeks, she's one amazing woman 😘😘😘 thank you for sharing this, I am smiling from ear to ear, rare treats from my "self" for me🌹🌹🌹

— Vandanaa Srinivas (@Vandanaa12) March 1, 2020
#13
100 out of 10
No words,,,
It happens only in India
राम राम माताजी🙏🙏

— Vishwendra Chaudhary🇮🇳🇮🇳 (@wishuvish) March 1, 2020
#14
Kya baat hai …Dadi ji toh khel gayi …pure 10/10 le ke gai ..🥰🔥🙏

— Truptiii🇮🇳 (@Truptisarpate) March 1, 2020
#15
Bahut achha ho mere liye agr dadi ji mujhe English ki classes de to🙆
Mujhe bhi English seekhna hai😊

— Sunil Swami (@sunil__swami) March 1, 2020
What do you think about the English speaking ability of this old woman?
Share Your Views In Comments Below