It is being said that there is nothing more dangerous than an angry woman and if that woman is your wife, even God can't save you from her wrath. The relationship of a married couple is based on the foundation of trust, love and respect but if trust is gone, there is no scope for love and respect as well.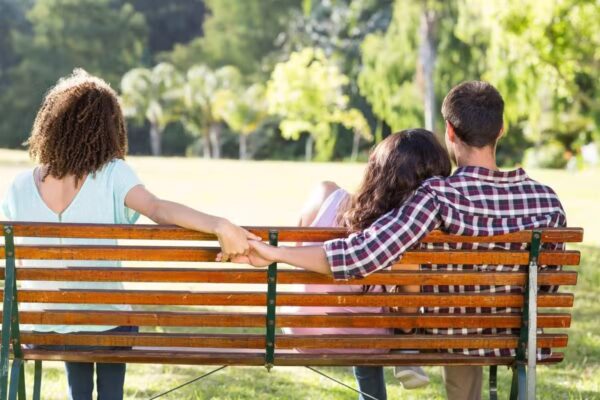 In a bizarre incident, a wife from Mackay, Australia, finds out that her husband is cheating on her so she decides to take revenge in a unique manner. The name of the wife is Jenny and she is married to Steve, she booked a full page of a leading daily for advertisement in which she got this published,
"Dear Steve, I hope you're happy with her. Now the whole town will know what a filthy cheater you are. From Jenny. PS: I bought this ad using your credit card."
Here is the ad: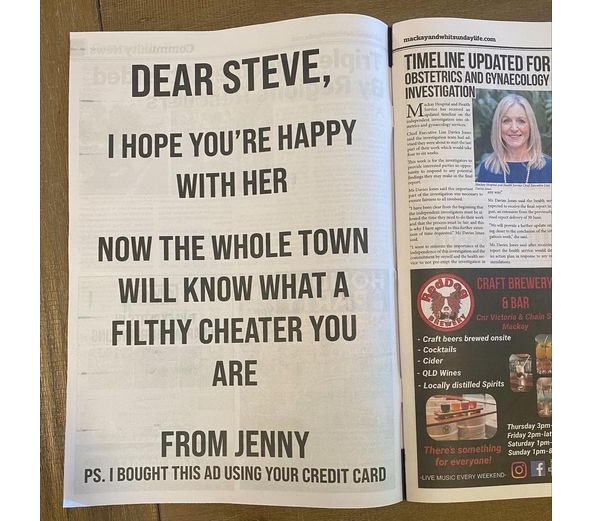 The newspaper 'Mackay and Whitsunday Life' got many questions regarding this ad on the page 4 and they responded with the screenshot of the ad on their Facebook page and also gave some information:
1. We do NOT know who Steve is, but apparently he's been very, very bad.
2. We won't be revealing any details about Jenny.
3. We have not charged the credit card in question.
https://www.facebook.com/mackayandwhitsundaylife/posts/pfbid0QUxRbDhSww9dfLMKzPtcMSuPKSxuG3JXH8D3MdkFxpSJvj6dYwJXAp3JBNLVpvTyl
Many online users loved the way in which Jenny took the revenge and this is how they reacted:
A woman in Mackay posted a full page ad in their paper. Dear Steve. I hope youre happy with her. Now everyone knows what a filthy cheater you are.
Jenny.
P.S Your credit card paid for this ad.
Lol😂😂😂you go girl 👏👏

— Mermaid Jan JG 🧜‍♀️🌴⛵🦋🐾🇦🇺 (@BeachGirlJan) August 12, 2022
As this news went viral, a highway hotel in Adelaide publicly apologized to Jenny on behalf of all the Steves:
https://twitter.com/livgracecurran/status/1558333766531104769
I've gotta admit this is some huge Jenny energy https://t.co/bOQVFL2Hot

— Jenny Noyes (@jennynoise) August 12, 2022
Jenny is a hero! 👏🏻 https://t.co/9pQocLZrQ1

— Victoria Fielding (@DrVicFielding) August 12, 2022
You go #Jenny! Go girl you good thing! 💚 https://t.co/T4dUTxOGAV

— Peter Doyle 🇦🇺 Voting YES! (@DonkeyDoyle) August 12, 2022
Good on you Jenny! Nothing like calling someone out on their 💩 behaviour! https://t.co/2YwOJghqtL

— Jo McKinnon 🐴 (@Jo_McKinnon) August 12, 2022
Queensland's star-crossed lovers, tell us more https://t.co/YQ9cS1kZxx

— ros reines (@RosReines) August 13, 2022
Jenny is being praised by everyone and we have to admit she has taken a perfect revenge which Steve will never forget but we will love to know more about whatever has happened. What about you?