News
World Leaders Raise Their Voice After Pulwama Tragedy, Promise To Stand By India.
The incident, rather the shameful act of terrorism that took lives of more than forty four of our Jawans, shook our entire nation. The tears are unstoppable and the pain is unbearable.
The day when everyone everywhere was celebrating the day of love, more than forty families lost their everything. Pakistan based terrorist group Jaish-e-Mohammed (JeM) claimed all the responsibility of this brutal act.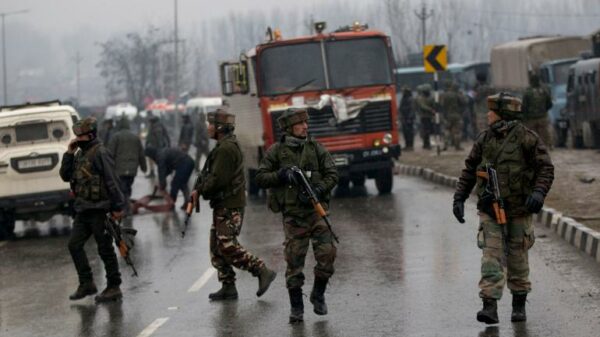 Terrorist Aadil Ahmad took lives of our CRPF Jawans when he rammed into a CRPF convoy with a car full of 350kgs of explosives in the Pulwama district of Jammu and Kashmir.
Indian Prime Minister Narendra Modi made a strong and powerful statement against this tragic incident and assured the nation that we will avenge this.
Attack on CRPF personnel in Pulwama is despicable. I strongly condemn this dastardly attack. The sacrifices of our brave security personnel shall not go in vain. The entire nation stands shoulder to shoulder with the families of the brave martyrs. May the injured recover quickly.

— Narendra Modi (@narendramodi) February 14, 2019
Our Indian President Ram Nath Kovind strongly condemning this act of terrorism said that the sacrifices of our soldiers won't go in vain.
Strongly condemn the terrorist attack in Pulwama, J&K. Thoughts and prayers with the families of martyrs and wishing an early recovery to those injured. The entire nation stands united in the fight against the forces of terror and evil #PresidentKovind

— President of India (@rashtrapatibhvn) February 14, 2019
Even leaders from all around the world condemned this loss we suffered and expressed their grief and support on the social media platforms.
#1
President Vladimir #Putin sent condolences to @rashtrapatibhvn & @narendramodi on the terrorist attack in Jammu&Kashmir: "Please accept the most sincere condolences in connection with the loss of Indian law enforcement officers in the terrorist act in the state of Jammu& Kashmir pic.twitter.com/Z7ohapWC8N

— Russia in India (@RusEmbIndia) February 15, 2019
#2
US Secretary of State: US condemns y'day's horrific terror attack on Indian security forces. My thoughts&prayers are with victims&their families.We stand with #India as it confronts terrorism. Pakistan must not provide safe haven for terrorists to threaten international security. pic.twitter.com/40cVyCCRvJ

— ANI (@ANI) February 15, 2019
#3
Shocked and saddened to hear of the dastardly terrorist attack in Kashmir, which has resulted in the loss of 30 precious human lives. We strongly condemn this heinous attack and express our solidarity with the families of the victims, and the people and Government of India.

— ForeignMinisterBhutan (@FMBhutan) February 14, 2019
#4
PM of Israel Benjamin Netanyahu: To my dear friend, Prime Minister of India Narendra Modi, we stand with you, the security forces and the people of India following this heinous terrorist attack. We send our condolences to the families of the victims. #PulwamaAttack (file pic) pic.twitter.com/v029Sr4cvl

— ANI (@ANI) February 15, 2019
#5
I strongly condemn the terrorist attacks in Jammu & Kashmir of India & Zahedan, Iran, that caused casualties to military personnel of our neighborly countries. As I have always said, unless the countries in the region cooperate in fight against the menace of terrorism, it will…

— Hamid Karzai (@KarzaiH) February 14, 2019
#6
#Iran 🇮🇷 Soutien aux transactions commerciales avec l'instrument #INSTEX pic.twitter.com/wDk83eW1AY

— France Diplomatie🇫🇷 (@francediplo) February 15, 2019
#7
I strongly condemn the brutal terrorist attack in Kashmir's Pulwama district — the worst ever terror attack in Jammu and Kashmir since 1989. I express my condolences to @narendramodi and the families of police officers who lost their lives.

— Ranil Wickremesinghe (@RW_UNP) February 14, 2019
#8
Israel strongly condemns the terror attack in #Pulwama and stands by our Indian friends during this difficult hour. We send our deepest condolences to the CPRF and their families, the people of India and the Indian government following the terrible #KashmirTerrorAttack

— Ron Malka 🇮🇱 (@DrRonMalka) February 14, 2019
We strongly condemn this unpardonable barbaric incident which took lives of our jawans.
Share Your Views In Comments Below