News
"Yaha Chori Ho Chuki Hai," Ranchi Residents Hang Posters For Robbers After Repeated Robbery
Every government should ensure that it provides security to its citizens by dealing harshly with the law-breakers but in reality, there are some places in India where the law and order situation is still not in control.
The citizens of Bhagwati Nagar of Pundag region in Ranchi, Jharkhand, are living in a nightmarish situation as for more than 10 days now, a group of thieves has wreaked havoc in their locality. The thieves are robbing the houses at their will and police has not been able to catch these culprits. What is more shocking is the fact that in the last 10 days, these thieves have robbed around a dozen of houses and some houses have been robbed more than once.
The residents of the area have been so frustrated that they are now hanging posters in front of their houses in which they are writing a message for the thieves, telling them that their house has already been robbed so the robbers should not waste their efforts by targeting it again.
A resident of the area, Rekha Devi informs that her house has been robbed twice within a month and in the second attempt, the thieves were able to take jewelry worth Rs 1.5 lakh. Another resident Manoj Kumar told a leading daily that on Saturday, his family visited his in-laws' house where they stayed at night. He further added that in the morning, he was informed by his neighbours that theft took place in his house and when they returned, they found that the thieves took with them cash worth Rs. 2 lakh and jewelry of Rs. 1 lakh.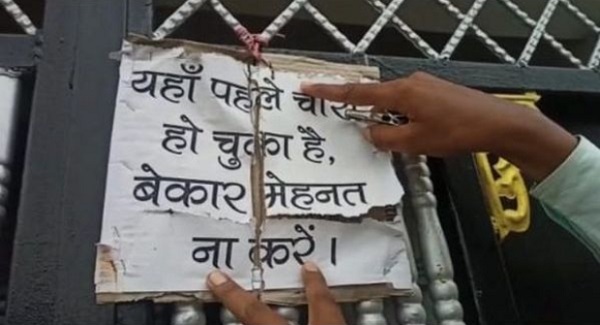 On Saturday only, one more house was also robbed which belonged to Jitendra Singh who works in the education department and the thieves stole cash, jewelry and some costly items from his house.
Not only the landlords but the tenants of the area are also very afraid nowadays and as per the local residents, the thieves are targeting those houses which are locked. After filing many complaints in the police station and because of getting no results, people have lost their hope in the cps so they are hanging such posters in front of their houses.
We sincerely hope that the police catches the thieves soon and people can live in a safe environment.