News
Yogi Adityanath Has Cleared 'Cow Cess' For Stray Cows, But Twitter Is Not Too Happy About It
Gau Mata ki raksha, right? That seems to be the only agenda on Yogi Adityanath's mind these days. The CM has now cleared a cow welfare cess which can be used to protect stray cows.
In fact, the proposal also suggests that cow sheds or gau shalas will be built in different areas of the state where the cows will be given shelter and taken care of.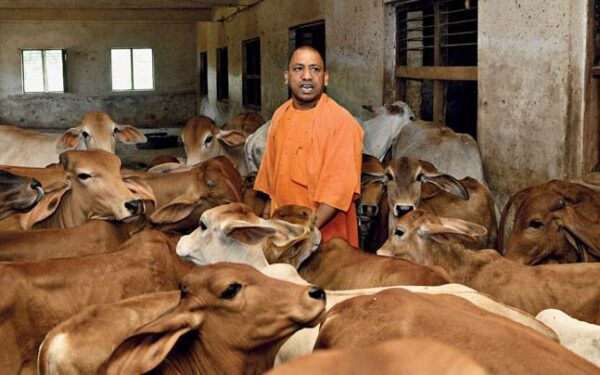 However, when there are more pressing matters at hand, Yogi Adityanath's affection and obsession with cows is not sitting too well with the citizens. They think it is a waste of time and money.
A lot of people are finding it ridiculous and took to Twitter to express their anger. Check it out:
1.
Up बचाओ योगी हटाओ …..A CM who can't think beyond gobar is A destruvtive thing for A state….sick CM sick State @myogiadityanath @UPGovt @PMOIndia @BJP4India #YogiAdityanath #cow

— Deepak Srivastava (@deepak_s_2000) January 2, 2019
2.
Welcome the New Year with a new cess. "Gau Raksha" cess. TRULY #SabKaSaathSabKaVikas. We can look forward to other animal cess too soon.

— AJ Indian 🇮🇳 (@AJIndian3) January 2, 2019
3.
U.P. should soon be renamed 'gau-rajya'. that will justify the 'gau-cess' being levied by the #BJP government in the state led by #YogiAdityanath

— Dr. Kisholoy Roy (@kisholoyspeaks) January 2, 2019
4.
So, now U.P Government Impose 0.5 % Tax on excise products for cows. Hope it will only spend there. #upgovt #YogiAdityanath

— Mayank Rathor (@mayannkk) January 2, 2019
5.
Many people had joked about a "Cow Cess" or a "Gau Mata Tax" ever since this Govt started getting obsessed with cows.

But now, It is actually happening in Uttar Pradesh! 🤪https://t.co/QIueU7Vf0p

— Dhruv Rathee (@dhruv_rathee) January 2, 2019
6.
@TimesNow @ndtv @narendramodi… I am amazed by this "cow" politics that yogi adityanath is playing. Guaranteed that UP will decide to give it back to him during LS elections

UP to impose 0.5% 'gau raksha' cess – Times of India https://t.co/aolHDi9LUC via @timesofindia

— Suraj Ganapathi (@pranav204) January 2, 2019
7.
Any cess planned for protecting civilians and policemen from gau-rakshaks/ cow terrorists??
UP to impose 0.5% 'gau raksha' cess to protect stray cattle https://t.co/3th5iQpeCD

— Sumit Sethi (@Sethinomics) January 2, 2019
What is your take on this?
Share Your Views In Comments Below